Watch this demo of HockeyTown on you tube. See how to play.
Watch this demo of my fourline game on youtube http://youtu.be/6p-CcOILND0
Crydaga Fun & Games is a small home based business working out of Saint John N.B. Canada. Although we are making our debut in 2012 we have been testing ideas for about ten years. Starting in 1999 with a birthday party idea for my sons 12th birthday, I built a huge game board (4 feet by 5 feet) and was able to keep 11 boys in front of that game for 3 hours. After that party I came up with other
...
game ideas using dice. \I tested these games by making them with MDF wood and used bingo markers as pawns. I had sold about 200 of these in 2002 but realized I needed a better way to produce them. So I sat on my ideas for about five years.Finally it hit me. I can print them off in note pad form and use pencils or crayons to play the games.

In 2011 we tested 3 different games in stores in the Saint John area.\After having positive results, Hockey Town was the best seller and that is the game we are going to start with.

|Why are people buying Hockey Town ?(the game)

1) They like games
2 )They like hockey
3) They like the tourism gift idea to bring back home for the kids
4) They are compact and easy to carry back in luggage
5) They make cute little stocking stuffers
6) They are great in the car , on the beach, at the trailer park/campground and at home. So here we are in 2012 and getting ready to hit the market. Look for our Hockey Town game in your travels. We will be distributing them throughout the Atlantic region as tourism/travel game.

If you are a retailer or in the hospitality business or if your company is looking for a new promotional product please contact us to find out more about our products. Thank you Gary Brown (506) 639 4256
See More
General Information
Our games are made here In Canada
Hockey is a way of life in Canada. We know that and the world knows it. That is why I have created Hockey Town (the game). These are small pocket sized games played on playable note pads.They a small enough to fit in your shirt pocket or hand bag. This makes them easy to stock and easy to pack. They make a great gift for ages 6 to 12.
Nothing says Canada like Hockey
I will be calling on your store in the near future. However , if you are interested in stocking my products, please feel free to call me at (506) 639 4256 http://www.facebook.com/crydaga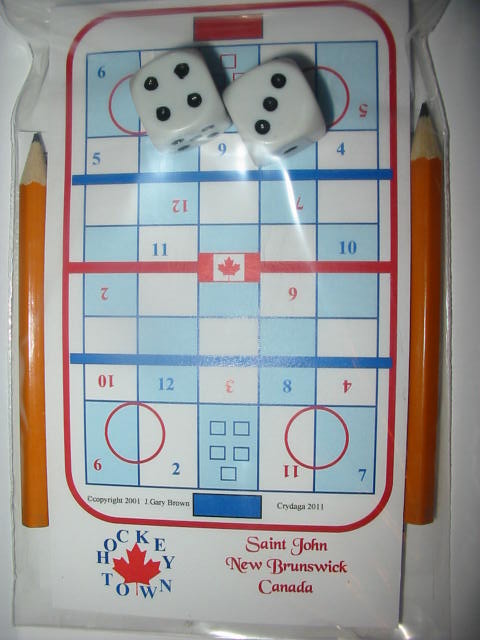 Hockey Town

(the game)

Hockey Town (the game) is for ages 6 and up. It is very easy to stock and easy for travelers to carry. It is about 3.5 by 6 inches and fits in your shirt pocket . These games are great fun on the beach in the camp or campgrounds and in the car. There are not a lot of game pieces to worry about losing, just pencils and dice.. Contains 50 game sheets in each package.
Hi Gary - Received both games in the mail. Your game was a hit with the younger set at junior curling last weekend!! We are off to the N.S 14 & Under Greenspiel this weekend & my daughter says the game goes with us. Tic-tac-tee looks great & I will be putting it to use with our team skip. Can't thank you enough.
Brian R


http://new-brunswick.net/new-brunswick/enter.html
Saint John Forums (click here)